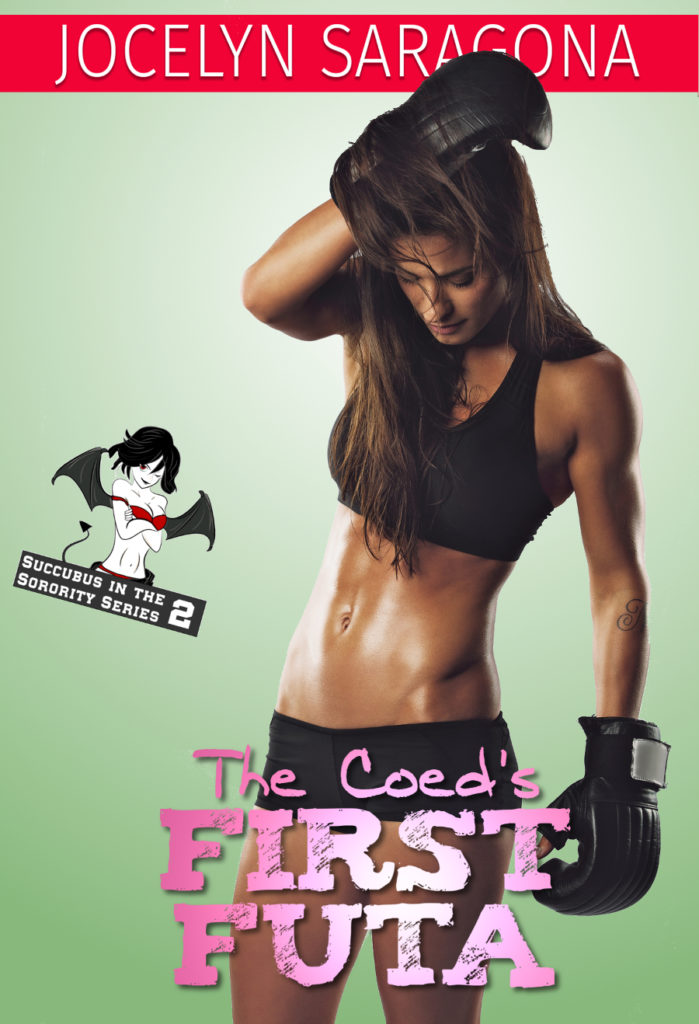 Meghan is one tough, kick-boxing evangelical coed conflicted about her lust. Her purity ring tells her one thing. Her make outs with a her hot trainer tell her another. Only vigorous work outs keep her sexual cravings in check. That backfires when Meghan catches her exhibitionist sorority friend having getting fucked by a futanari in the locker room. After that unbelievably steamy encounter, Meghan's unexpected lesbian cravings won't go away. But who can she talk about it? Her judgmental accountability partner at church?
Meghan finds the sexiest Halloween costume ever -if only it will make her brave enough for her first time, and before long she must decide who her real friends are.
Reviews:
Kara

on

Goodreads

wrote:
The Coed's First Futa (Succubus in the Sorority Book 2) continues the sapphic adventures of once-human, now-futa Sharis, and her sorority sisters.

New MC Meghan is conflicted.
It's better to exercise. Yes, that keeps me from getting all lustful.

There were two types of daughters of ministry: hedonistic rebellion kids, and perfect kids.

Meghan's classmates Sharis and Addison convince her that since she's straight, some fun lesbian activity wouldn't technically count as sex. Oh my….the things people can believe!! Well, of course, there's also that whole "girl cock" and wings that Sharis sports, so perhaps it's reasonable for Meghan to believe the sex rule too.

Meghan's desperate to get in her boyfriend's pants, and she's rather dismayed to find her judgmental friend Leslie has already been there. Ooopsie. Well, Meghan enjoys the halloween party with her new friends. 3.5*; there's a story once again, but it wasn't as fun as the first book in the series.
Greg Dixon

on

Goodreads

wrote:
A good read for people who are in to the series recommended highly a enjoyable read but quick shaping up to be a enjoyable series must read the next one of the series