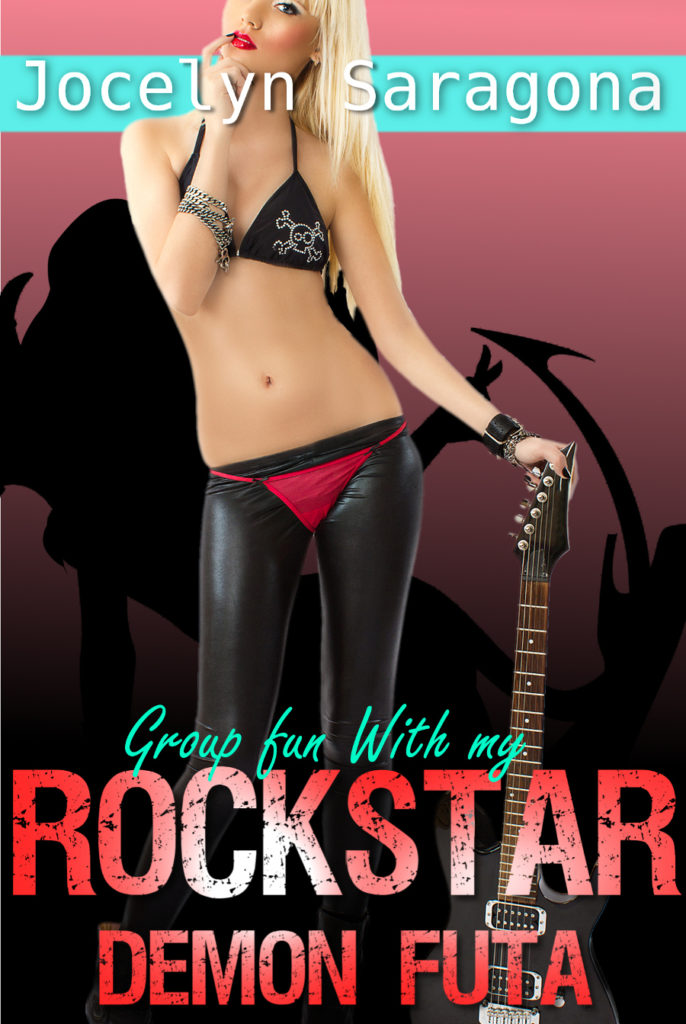 Alexis suffers under the soul killing lights of her office admin job. Only day dreaming, online dirty talk, and sneaky dress sketching get her through her day. What's worse is that she's been monogamous too long. It's time to jump into bed with a new guy, a new woman, or maybe both at the same time.
Alexis seduces the traveling tall male hotness in her office, but it's an encounter with the futanari Zarah that drives her wild. The supernatural allure of Zarah's guitar and voice are mind blowing, and Alexis can't stop thinking of her. Zarah knows it, and gets Alexis aroused right in the middle of the work day.
Now if only Alexis can handle all these new partners without getting caught by HR.
Reviews:
Sally Bend

on

Sally Bend's Blog

wrote:
The Demon Rocker Zarah is a two (soon to be three!) book series from the erotic pen of Jocelyn Saragona that penetrates the veil of urban fantasy with some over-the-top futa erotica. It is a series with well-developed characters, a real plot, and plenty of magic and mystery to accompany the erotic elements, making it a fabulous read.

Rocked by the Demon Futa introduced us to Zarah through her gig at a Santa Monica beach bar, where she fell prey to an amateur warlock and his mind control magic. Her story continues in Group fun with my Rockstar Futa, in which she introduced to Alexis - whose boyfriend has just agreed to open up their relationship - through the world of online dating!

The opening chapters make for a exciting mix of erotic details because we get to see Alexis being intimate with her boyfriend and a coworker, but it is the kinky cybersex with a dominant, horny, hungry Zarah that is the most fun. The eventual reveal of her succubus wings and futa member is a bit more subdued than in the first book, but I loved how matter-of-fact Alexis was with the whole discussion of having just spent the night with a genuine succubus!

This is a different story than the first, less horror and more romance, but plenty of drama. It is when Alexis decides Zarah would be the perfect entertainer to distinguish her company's cruise ship partners where all the story threads begin to come together, and where a workplace investigation into her 'open' affairs forces those relationships to clash. Families and spouses and coworkers all come into the picture, and threats of legal action supersede any ideas of supernatural retribution - although, this being the story that it is, a demonic presence does play into that workplace drama.

I admit, I expected the closing chapters to go in a completely different direction, but it is never a bad thing to be surprised by a story, and the final tease at the end was just delicious! Up next, I have an advance copy of Rock Star Futa Cursed on a Cruise that I have already taken a peek at, so watch for that review next week!